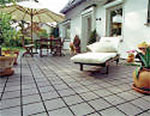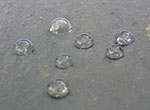 "Wherever you come across" – the extra-hard permanent refinement
… leaves even severe pollutions outside.

Extra-hard nanoparticles do not only prevent the intrusion, but also the "tramping in" of all kinds of dirt, acids, oil, brines… into the floor.

This special abrasion-resistant refinement system is perfectly suitable for foyers, reception areas, car houses, museums, entrance halls of banks and warehouses, offices… and everywhere else where a lot of people considerably strain the floor.

Also in private houses this system provides a surface protection for everyday pollutions.
dirt due to wet leaves is a thing of the past

oil-, brine- and acid-resistant

dirt cannot be "trampled in" anymore

extra-hard permanent nano refinement

floor can be easily cleaned just with water